Looking for E Flat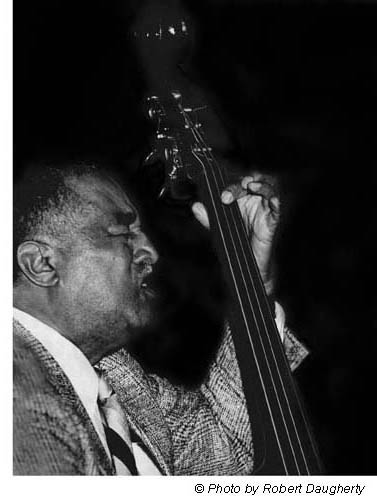 Years ago, when I lived in Los Angeles, I had a little shop in my home. Some of the bass players around town would bring their instruments over for me to do work for them. Every now and then, I'd answer the phone to hear, "Robert!" I always knew when it was Ray Brown. His voice was so full and rich. You could hear his smile. He'd often say that he had just flown in from Tokyo or some other far off place and that he'd like to bring his bass over for a little touch-up. Since we both lived in the same neighborhood, I'd say sure, come on over. With the bass resting in the shop, we'd hang-out for a while. Sometimes, he would tell stories about where he'd just been or we'd listen to a tape of some music he'd just made. Other times, he would talk about the past.

One time, he spoke about growing up in Pittsburgh. When he was boy, he had a newspaper route after school. As he made his deliveries around the neighborhood, there was a bar that he passed every day. He would stop by the front door to listen to the music coming from inside. Often, Duke Ellington records were playing on the juke box. Jimmy Blanton's bass came booming from the juke box. He said, that was what put the sound of the bass in his ear.

On one of his visits, I knew that he was playing that evening at Catalina's, a jazz club in Hollywood. I asked if I could come to take pictures. He was so gracious. He said he'd put me on the guest list. I had a great time. It was a great evening. Later, I made a large print of a shot from that night. I mounted and framed it. I put it aside to give to Ray the next time he called.

Some months passed before I saw him again. When the phone rang one day, I answered to hear, "Robert!" He came over and I gave the photo to him. He looked at it for a few seconds and said, "Looking for E flat!" I laughed, not knowing if he liked the photo or not.

These days, I can be found at Robertson and Sons Violin Shop in Albuquerque, NM. One of the last times that I saw Ray, he was to perform in Santa Fe. The day his plane arrived his bass went on to St. Louis. He had no bass to play that evening. The concert promoter brought him to Robertson's to see about borrowing a bass.

We hadn't seen one another for a long time. Ray looked tired. His walk was a little slower than I remembered. I imagined that he just wanted to get to his hotel and rest. But, before he went, I said, "Ray, come look at this." I brought him back to the workshop. Over my bench hangs the photo taken at Catalina's ten years earlier. I asked if he remembered the picture. He said, "Oh yeah! Looking for E flat!" As he turned to go, I thought, what a memory he has. I guess he liked it after all.
| | | |
| --- | --- | --- |
| Copyright 2006 International Society of Bassists | 2006, Volume 30, Number 2 | pg. 9 |
To read more Bass World articles click on the name.