Bob Daugherty is not only a master luthier, he's also an accomplished photographer who has chronicled, on 35 millimeter black and white film, the careers of many of the jazz greats he knew during his time as a jazz and studio bassist in New York City and Los Angeles.
(2007, Volume 30, Number 3)

With a Laugh and a Smile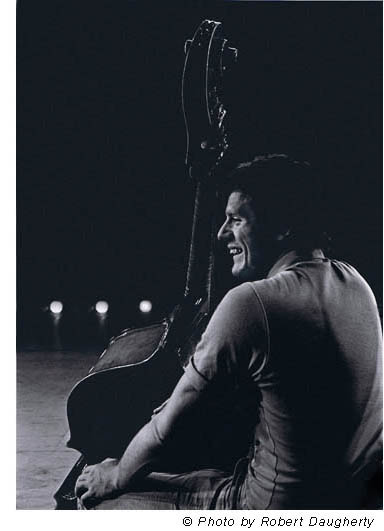 The summer of 1954, I was away at camp in t
he Ozark Mountains of Missouri. That year, I was smitten with one of the counselors. I was only fourteen and she, of course, was a little older. She had just recently arrived from Japan and spoke only a little English. There was a charming quietness about her. I thought she was so exotic.



I returned home from camp with a dream of one day visiting Japan. After a little searching, I was able to find a Japanese phrase book. With the hope of teaching myself, I tried to pronounce the words but had no idea how they should sound. By the time school started that fall, I was just barely able to count to ten in Japanese.



Years later, when I was invited to take part in an international jazz festival in Osaka, Japan, for the 1970 World's Fair, I jumped at the chance. I was to perform with pianist Toshiko Akiyoshi, saxophonist Lew Tabackin and drummer Mickey Roker. Also on the program were performers from Japan, Bali and Europe. Included with the European group was a Danish bassist, Niels-Henning Ørsted Pedersen. I had heard recordings of him and knew what a wonderful player he was. I was looking forward to meeting him.



The promoters of the event were to provide a bass for Niels and me to play. At the auditorium on the day when we first met, a gentleman and his young assistant delivered a nice looking bass from Germany. The instrument appeared to be in excellent condition. However, Niels and I both agreed that the strings were too high off the fingerboard to be playable. We found a table backstage where we laid the bass. We watched while they proceeded to carve deep, v-shaped grooves in the bridge with a rather large knife. After a period of trial and error, we decided that the string height was going to work well enough. I brought along a Polytone pick-up. Once it was installed, the amplified sound was pretty good. Our performances went without a hitch on the days that followed.



When the concerts were over we went our separate ways. I went to Tokyo for a few days before returning home to New York. I was staying at the New Otani Hotel in Akasaka. While taking the elevator up to my floor, I listened while people called out the numbers of their floors. Remembering my Japanese studies from years ago, I called out, "Go!" Hands modestly hid the shy smiles of the other guests. I had just asked for the fifth floor.



Through the years since that trip, I have had this photograph of Niels to remind me of our brief time together. It was taken on stage that first day in Osaka, shortly after we had looked on while the bass was being adjusted. I recall how easygoing Niels had been, taking the stressful situation in stride, not knowing if the instrument would be playable or not. He just shrugged it off with a laugh and a smile.



Last year I was sad to hear that Niels had passed away suddenly. I cherish the memory of his affable spirit.
Copyright 2007 International Society of Bassists ______________________2007, Volume 30, Number 3
---
To read more Bass World articles click on the name.
♫
---
Home | About | Repair & Restoration | Artwork | Instruments & Accessories | FAQ | Contact

Copyright © 2007-2016 by Daugherty Violin Shop. All rights reserved.