Geoffrey Daugherty set a goal for himself at the age of 14: to become a bassist and a photographer and to work with stringed instruments, just like his dad.

Today, Daugherty has realized his dream as the owner of Daugherty Violin Shop in Eureka, which he runs with none other than his lifelong role model — his father Robert "Bob" Daugherty.

The business, located in the 1600 block of F Street, is a full-service violin shop, servicing stringed instruments of all shapes and sizes.

The Daughertys restore and tune everything from violins to cellos, and sell strings, bows and other accessories. They also sell and rent instruments and are working on a Web site to help educate customers.

Inside, the spacious shop is filled with stringed instruments in all stages of restoration and passers-by can see everything in progress.

But it's not the shop itself that is unique, it's the years of experience the two men bring to the North Coast.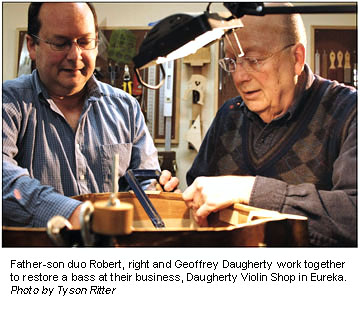 Bob Daugherty spent 30 years of his life as a professional bassist, playing themes for television and scores for major motion pictures, and worked on recordings with John Lennon, Tony Bennett, Barbra Streisand, Frank Sinatra and more. He raised his family in New York and Los Angeles during the 1960s and 1970s, exposing his sons to some of the great musicians of the time.

"He probably got his first taste of bass in the womb," Bob Daugherty said of his son.
Daugherty junior grew up listening to the sounds of his father's bass — one of six he in the family's small New York apartment. He picked up a bass of his own at age 14, but didn't start playing seriously until he turned 20.
By this time, Geoffrey Daugherty had moved to Humboldt County from Los Angeles to attend Humboldt State University.
His love for the instrument transcended other academic pursuits, and he soon found himself tuning instruments for friends. Around the same time, Daugherty senior retired from the music industry and moved to Albuquerque, N.M., where he began working at Robertson & Sons Violin Shop, a world-renowned stringed instrument company.
Though Robertson & Sons specializes in Stradivarius violins, the business featured a showroom of between 70 and 80 basses, and it is there that Bob Daugherty learned to restore instruments.
So how did a showbiz musician turned expert restorer end up in Humboldt County? He moved here to be closer to his grandchildren. Daugherty senior has two sons living on the North Coast and decided last year to move closer to both.
In July, he packed up his shop and moved to the Eureka area with the intention of enjoying a quiet retirement near his family. But while it may be quiet, Bob Daugherty is far from retired.
Stringed instruments of all sizes, from violins to basses are welcome at Daugherty Violin Shop.
Photo: Tyson Ritter
With Geoffrey Daugherty's encouragement, the duo decided to set up shop in Eureka, and in doing so, they are both coming full circle. Geoffrey Daugherty, who has been lured out of the area with job prospects in the past, said he wanted to find a way to fulfill the three goals he set for himself as a teen while living in an area he has grown to love.
"I like the work," Geoffrey Daugherty said. "The shape, the sound, the feel. ... I just love everything.

"The business just sort of followed."

Now, both Daughertys are doing the three things they set out to do so many years ago: They are bassists and work with stringed instruments. But where does the photography come into play?

In the back of their shop, they have created a dark room for their photography business, though it's more of a passion than a job. Bob Daugherty has also hung photographs from his experience in the music industry in the violin shop foyer.

During an interview at the shop last week, the Daughertys drew parallels between music and photography, explaining why it's almost natural to have a dark room at a violin shop.

"They're both methodical ... thoughtful and meditative," Bob Daugherty said.

The fact that they prefer film over digital technology speaks to their love for tradition.
"The nature of our work is old-fashioned," Geoffrey Daugherty explained.
Working with his father is something he never imagined he would have the opportunity to do. But after years of working on stringed instruments by himself, he is enjoying the companionship and expertise his mentor provides.
"It's a dream come true," Geoffrey Daugherty said.
For more information about Daugherty Violin Shop, phone 707-445-1957 or go to www.stringrepair.net.